Paintball birthday parties to remember forever!
Birthday parties of all sizes are welcome at Delta Force. We have over 25 years of experience in organising incredible paintball birthday parties, and all of our birthday boys and girls are treated like celebrities.
Safety is our main priority and all kids will be carefully supervised throughout the session. We are the industry leader, and our safety practices, procedures and equipment are correspondingly high. We are proud of our 100% safety record and are totally committed to maintaining it. We guarantee to return all children fully safe and sound (if at times a little dirty).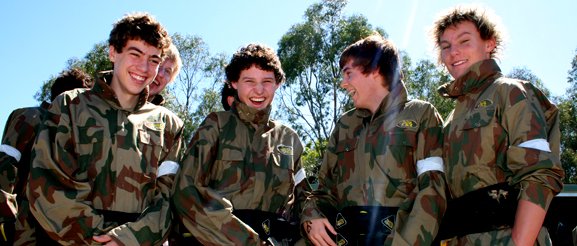 A session of paintball action is an unforgettable experience for any youngster; at Delta Force they can live out their wildest dreams with their friends by storming the pyramid, capturing the relic and defeating the enemy. It's guaranteed to bring a smile to their face… not to mention a few war stories to tell everyone at school!
Visit Delta Force for the most adventurous and exciting birthday party of the year!
Please note: When sending out birthday invitations, please ensure all parents are aware that the ACT has set a minimum playing age of 16 years old for normal paintball and Delta Force Paintball Canberra also has MiniBall for those under 16 and a minimum of 10 years old.