Needing youth group ideas?
If you're looking for an activity to motivate the kids, or as a reward for a good performance throughout the year, visit the world leader in paintball games – Delta Force.
We offer an exciting, safe and healthy environment for everyone to enjoy action-packed sessions of paintball adventure. Our amazing game scenarios offer the perfect weekend or holiday visit for children and adults alike. Your kids will have the time of their lives as they storm the pyramid to capture the ancient artefact or free their friends in prison break. There is no better activity to entertain the kids – it's a group activity where they can play with their friends and they'll get to experience scenarios they have only seen on TV or at the movies.
We have entertained countless amounts of school and youth groups, community and sports groups around the world. We have the experience, knowledge and facilities to provide your group or team with the ultimate paintball adventure.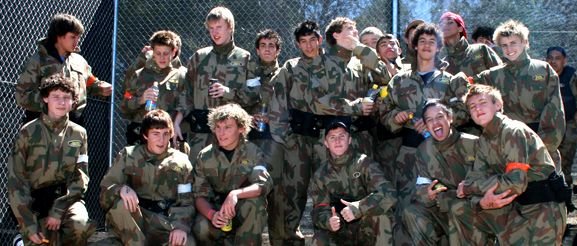 Paintball is one of the fastest growing sports in the world, and a great way to reward good performance and to engender and develop team spirit within the group. At Delta Force Paintball Canberra we can offer players as young as 10 years the thrills of paintballing. For those 16 years and over, the full adult game is available with all it's super-charged action. Due to ACT firearm laws, those under 16 years are not permitted to play the standard paintball game. But fear not. Delta Force Paintball has successfully lobbied the relevant powers that be and introduced to Australia MiniBall, a version of paintball specifically tailored to the youngsters so they no longer have to look on with mixed emotions of awe and frustration. Players as young as 10 years can now play the MiniBall version of paintball.
Not only is paintball an extremely fun day out, but it also builds confidence and teaches the kids about teamwork and strategy. Yes, these lessons can be taught in school, but a first-hand experience will surely get the kids wanting to learn more.
The safety regulations implemented at Delta Force are second to none; from full head protection goggles and body armour, to 5-star membership of the AUPBA and full Public Liability Insurance, we pride ourselves on an unparalleled safety record. All 'Young Gunz', as we like to call our under 16's, receive a full safety briefing before the day's play, with general information on how the session will run, as well as a full brief of the safety rules, regulations and appropriate use of the paintball equipment. The equipment used at Delta Force is state-of-the-art and ensures the safety and comfort of all participants throughout the session. Would you let your children or students play at a paintball centre that doesn't place such a premium importance on safety? Research shows that paintball is in fact safer than golf and rugby.
So whether you are organising an excursion for a single class or the entire school or sporting/youth group, let Delta Force customise a session of paintballing to meet your group's unique and important needs. From transport and lunch, to full head protection goggles and movie-set quality game scenarios, come to Delta Force for a school excursion the children will never forget.
Children With Disabilities
Paintball is a physically demanding activity and requires certain physical abilities. While players with disabilities are welcome to play at Delta Force, parents/guardians need to be aware of the nature of paintball and the game terrain, and make a subsequent decision based on the physical abilities of each player.
Whatever the occasion, visit Delta Force for the most fun and exhilarating day they'll have all year and join the list of satisfied schools, sporting and youth groups that have been through the Delta Force doors and had an experience to remember a lifetime.